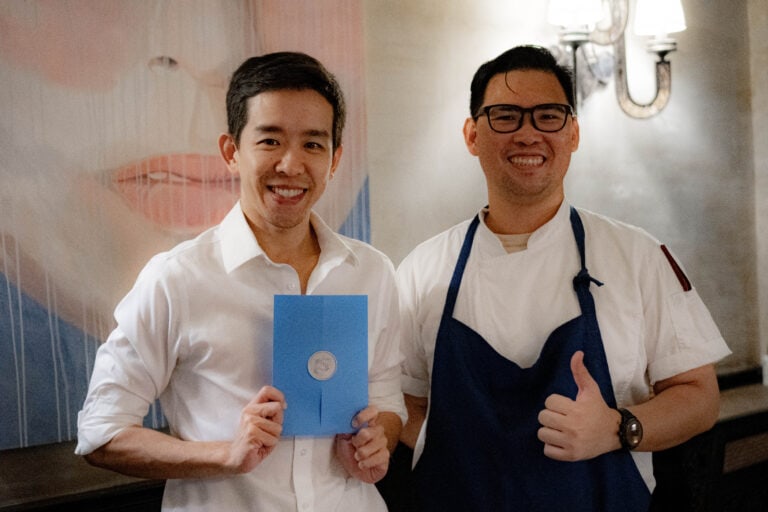 Samut Restaurant in Phuket offers modern Thai seafood, under the culinary expertise of Chef Thitit Tassanakajohn. The establishment was born during the lockdown, when Chef Thitit was stuck in Phuket and had the opportunity to meet Chef Bank Chatchawan Warahajirakul.
The name 'Samut' originates from the Thai word for ocean, reflecting the restaurant's focus on showcasing Thai seafood from the Gulf of Thailand and the Andaman Sea, sourced from local farmers and fishermen.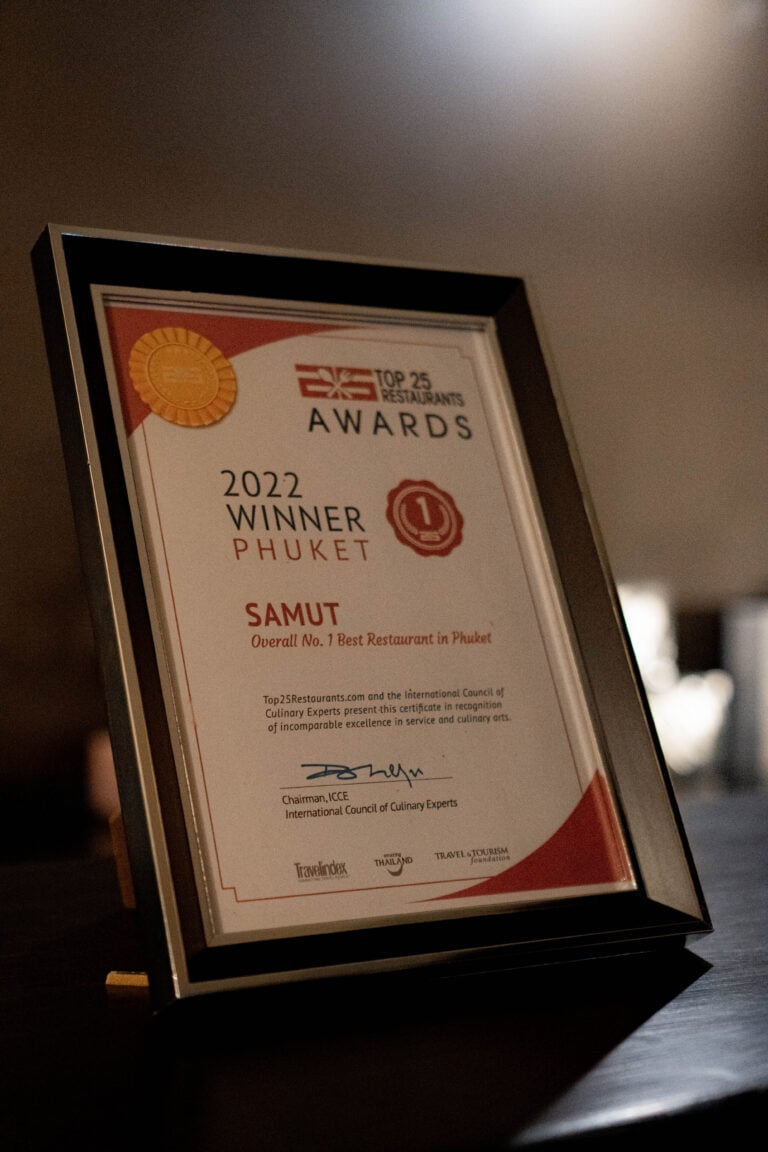 The interior design features a predominant dark wood structure, adorned with warm lighting that creates a classic atmosphere with hints of ancient Chinese influence. Additionally, the restaurant follows a Zero Waste concept, utilizing raw materials to their fullest potential.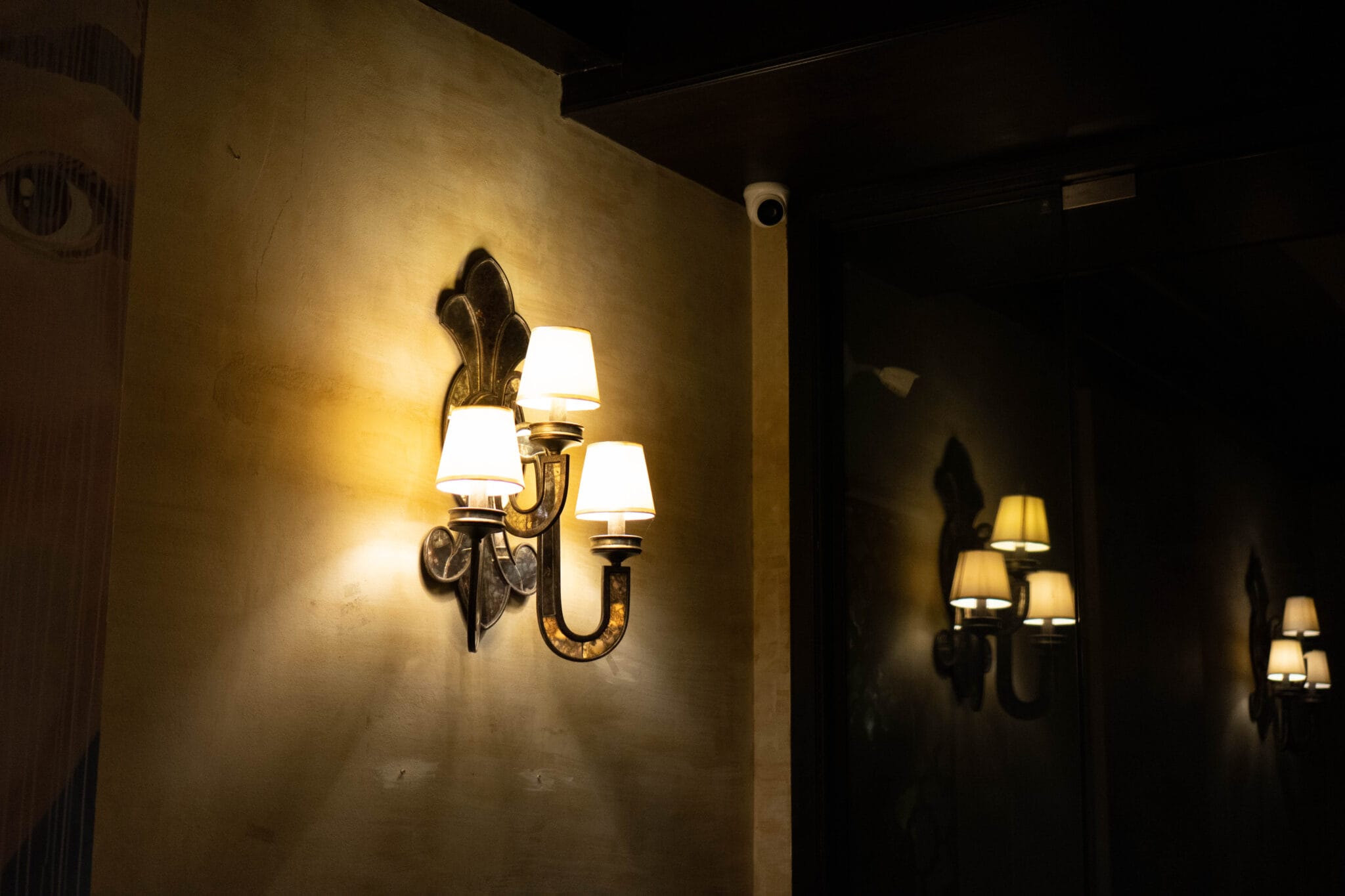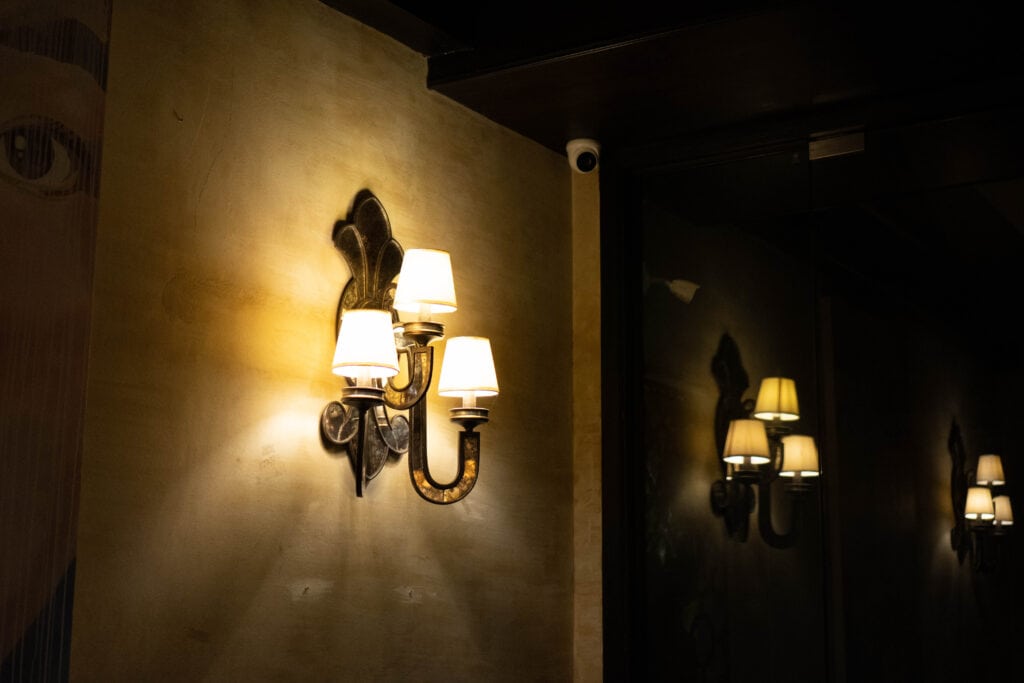 The food at Samut showcases a modern take on southern Thai cuisine. Chef Bank reimagines traditional southern dishes with contemporary techniques. Local ingredients such as lobsters from Phuket, catfish from Nakhon Si Thammarat, and oysters from Surat Thani are carefully selected to enhance the flavors of each dish.
Start with Starter
Begin our dining with the appetizer, "Crispy Soft Shell Crab," a substitute for the traditional "Soft Shell Crab" made from sea cicadas from Mai Khao Beach, due to a recent storm in Phuket. The crab is served with a side of okra leaf sauce and topped with a sprinkle of mushroom powder.
Experience the flavors of Southern Thailand with "Nasi Da Khae," a bite-sized sushi interpretation of a traditional Muslim fish curry dish from Yala and Pattani. The dish is served on a bed of three types of rice: jasmine, brown, and glutinous, each wrapped in pickled radish and filled with amber fish curry. It is then finished with a topping of fish mousse and a crunchy texture from fried fish scales.
"Hoi Maak" features a family of sweet clams that are cleaned, blanched, and topped with curry paste before being oven-baked and grated with kaffir lime skin for aroma.
The "Kao Yam" Amuse bouche is a twist on plain rice, made with Rice Crackers and topped with fresh vegetables, grapefruit, and fish ground, with a Budu Jum sauce made from coconut sugar for added aroma and topped with pink Dala jelly.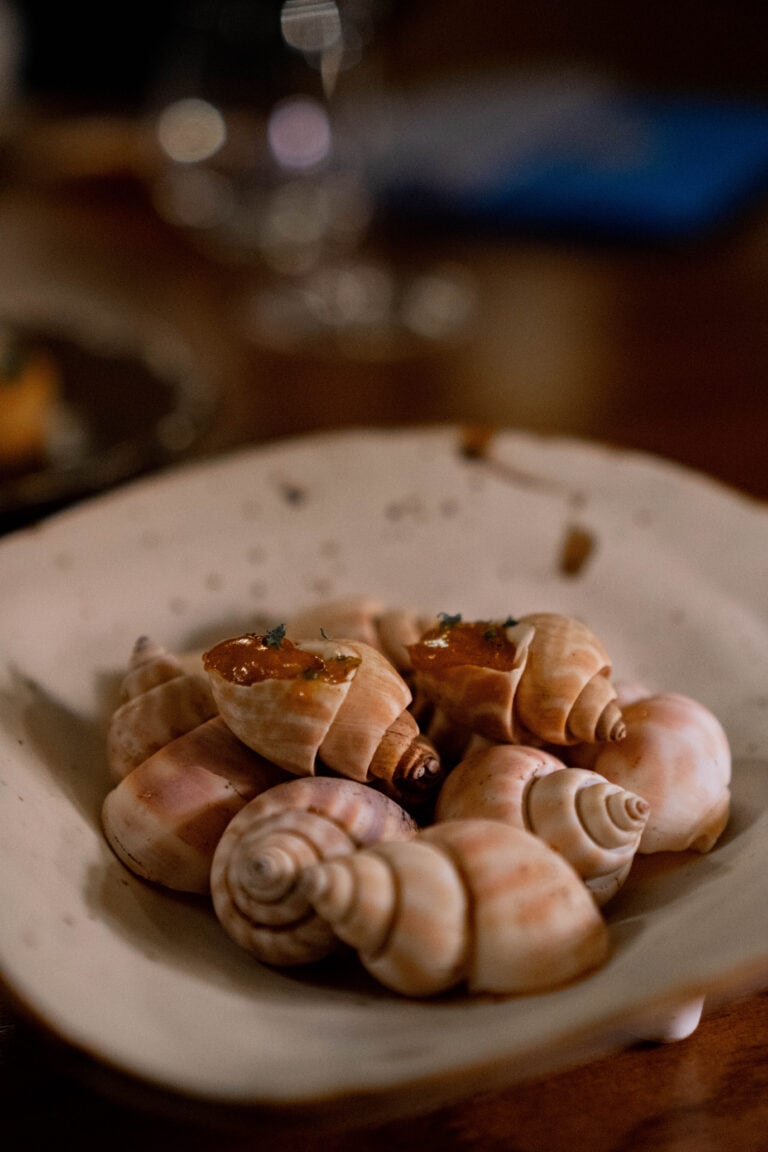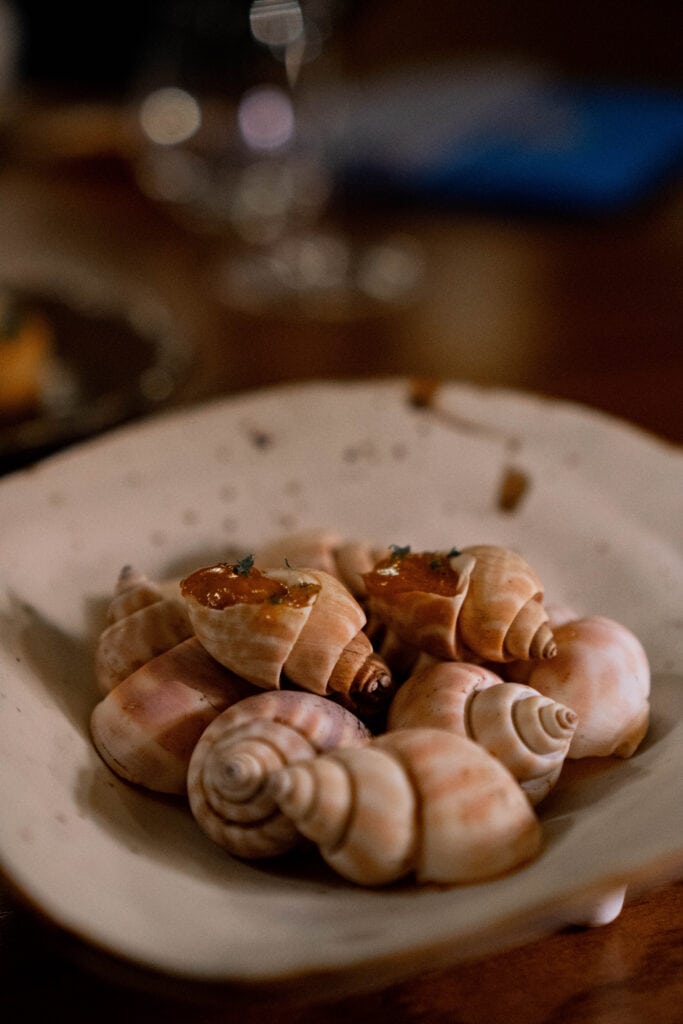 The "Keang Som" course features Andaman shrimp made into a mousse, topped with sour sauce, and served with vegetables like long beans, pickled papaya, pickled Sesbania flowers, coconut shoots, long beans, and tempura cha-om, along with crispy roti.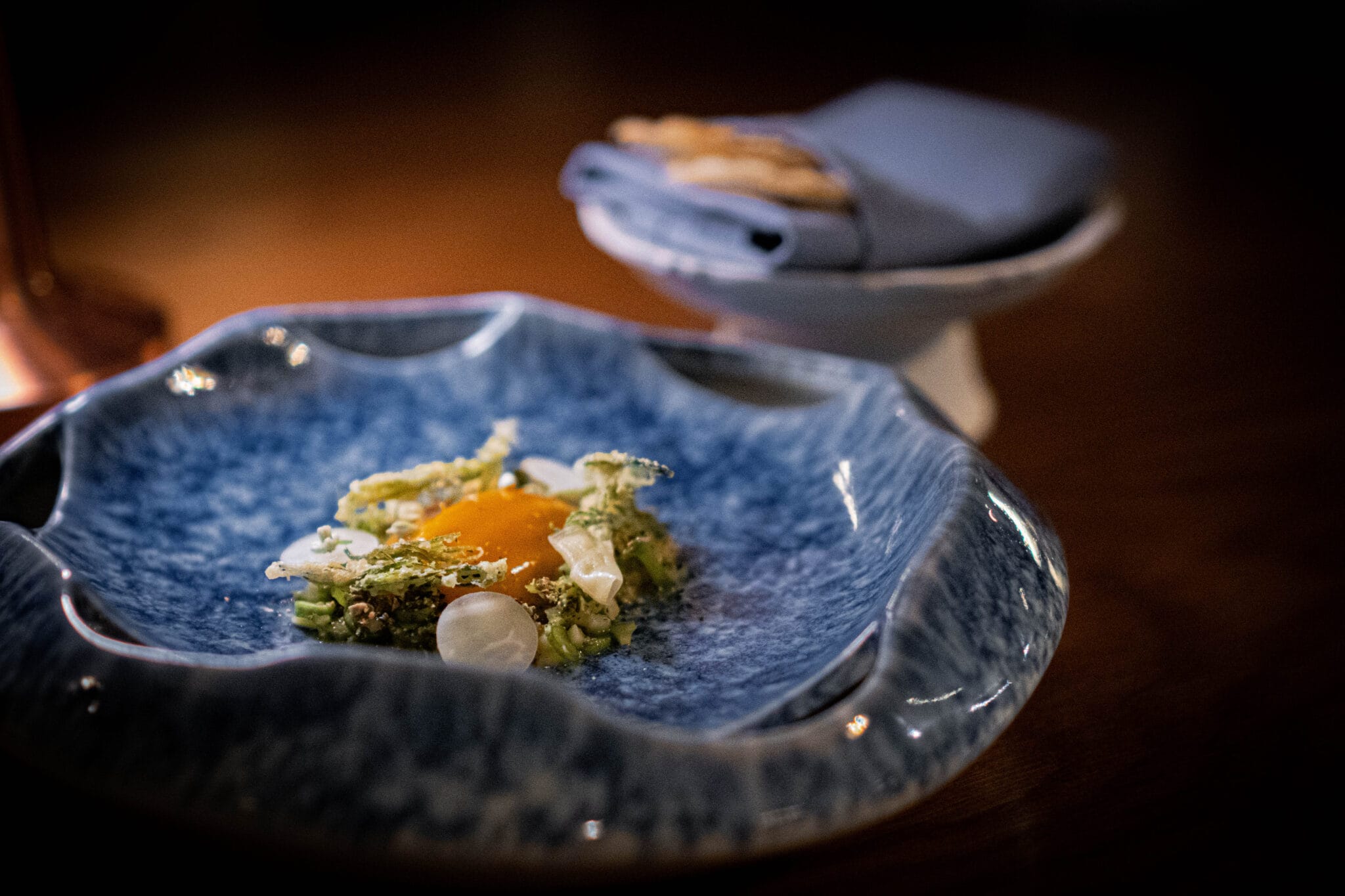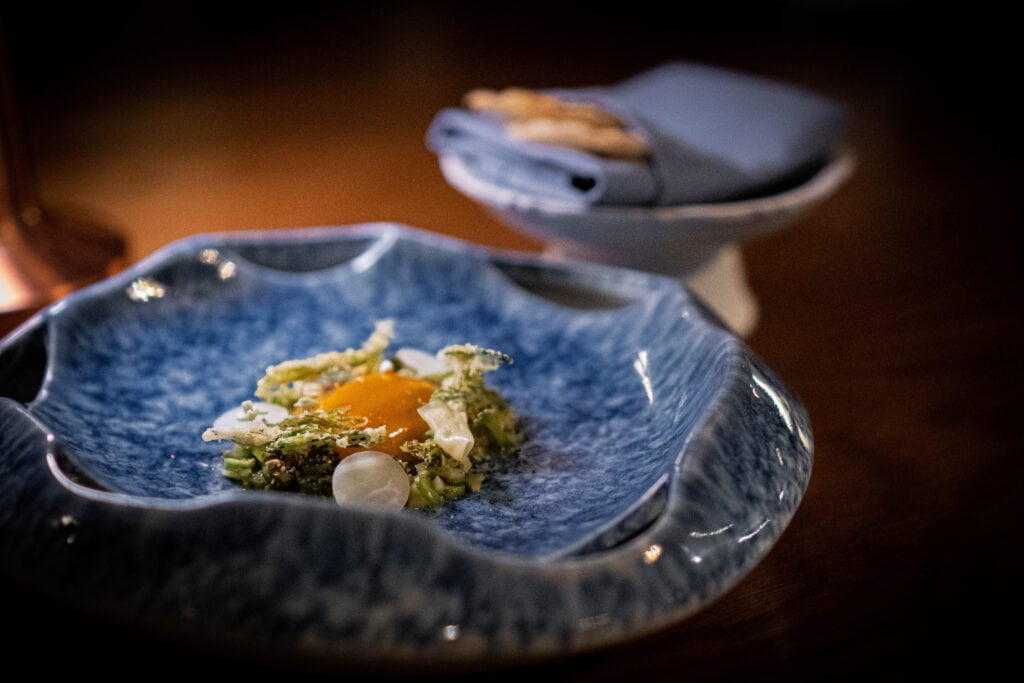 The "Marine Catfish" is inspired by the Crispy Catfish Salad and features catfish from Nakhon Si Thammarat, cooked in a crispy krathong batter and topped with diced sour mango, mango gel, grilled sea catfish, water from Garcinia Cambogia, caramelized shallots, crispy catfish, fizzy orange skin, and pickled sea catfish roe in sweet fish sauce.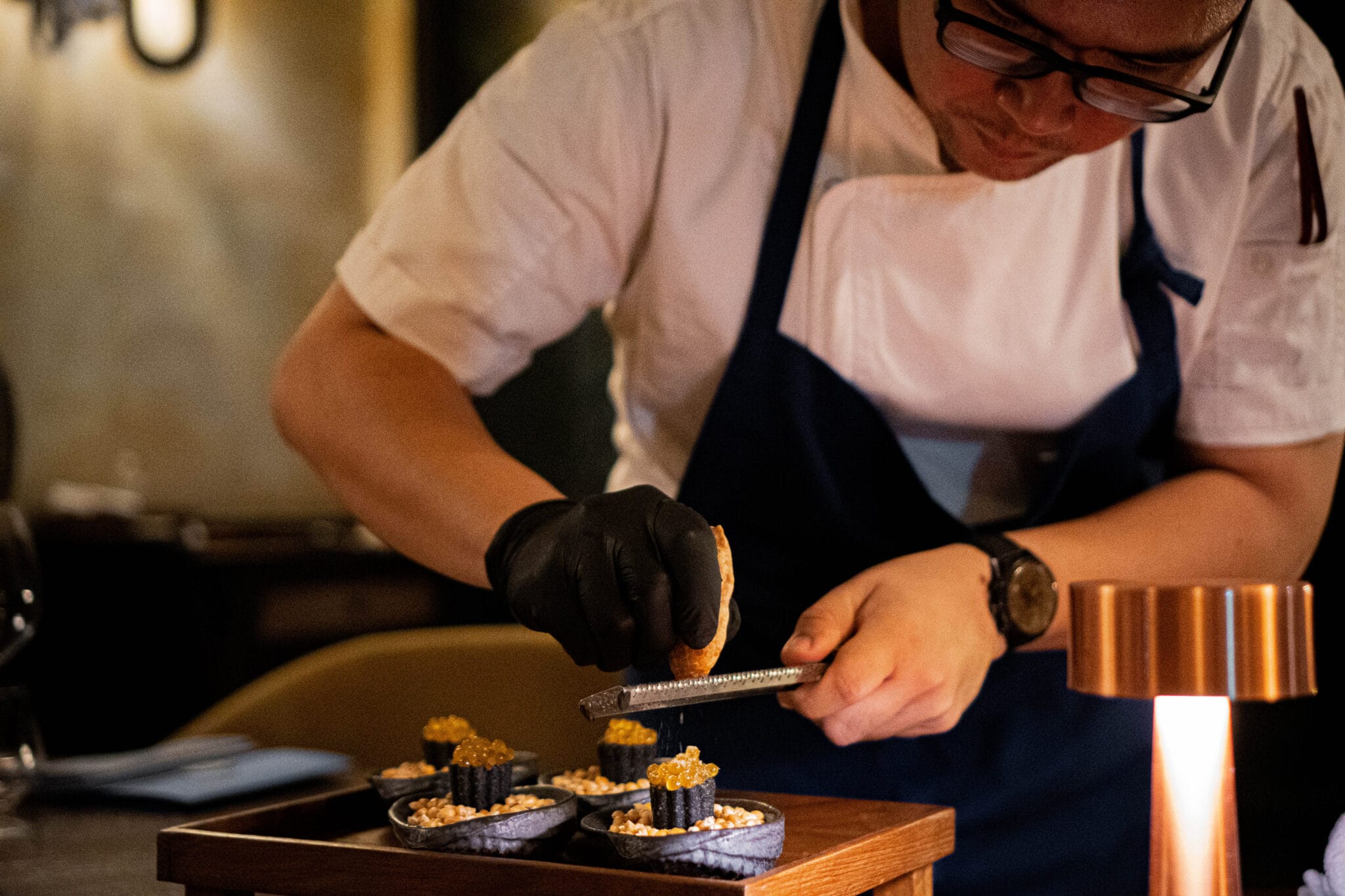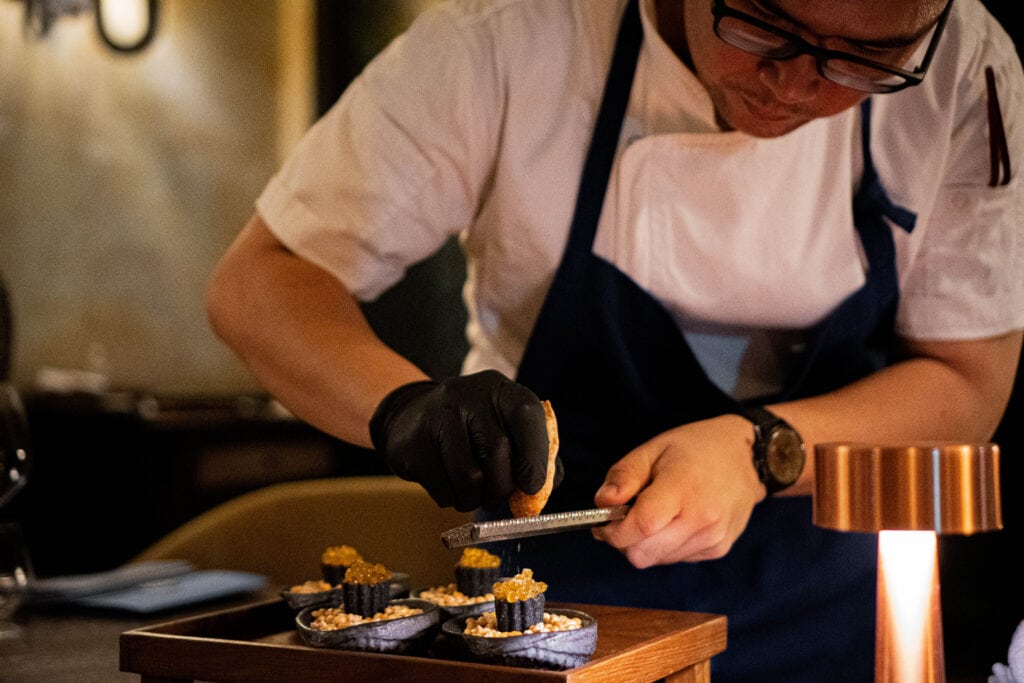 "Tiger Prawn" takes inspiration from Dim Sum and features firm-fleshed tiger prawns from the sea of Phuket, wrapped in Vietnamese spring rolls, sprinkled with fried garlic, chopped shallots, and shrimp shell oil, and served with a shrimp paste emulsion and shrimp shell soup, with a focus on zero waste.
"Scallops" are charcoal grilled for a slight smoky flavor and served with scallop powder, coriander leaves, tomatoes, sweet potatoes, and a hot Vongola soup.
"Phuket lobster" grilled with shell and served with tomatoes and grape seaweed, accompanied by a seafood dipping sauce with coriander, city vinegar, cilantro, cherry tomatoes, and pickled tomato peel powder. Seaweed powder adds a salty and umami flavor, as well as dehydrated kale leaf powder.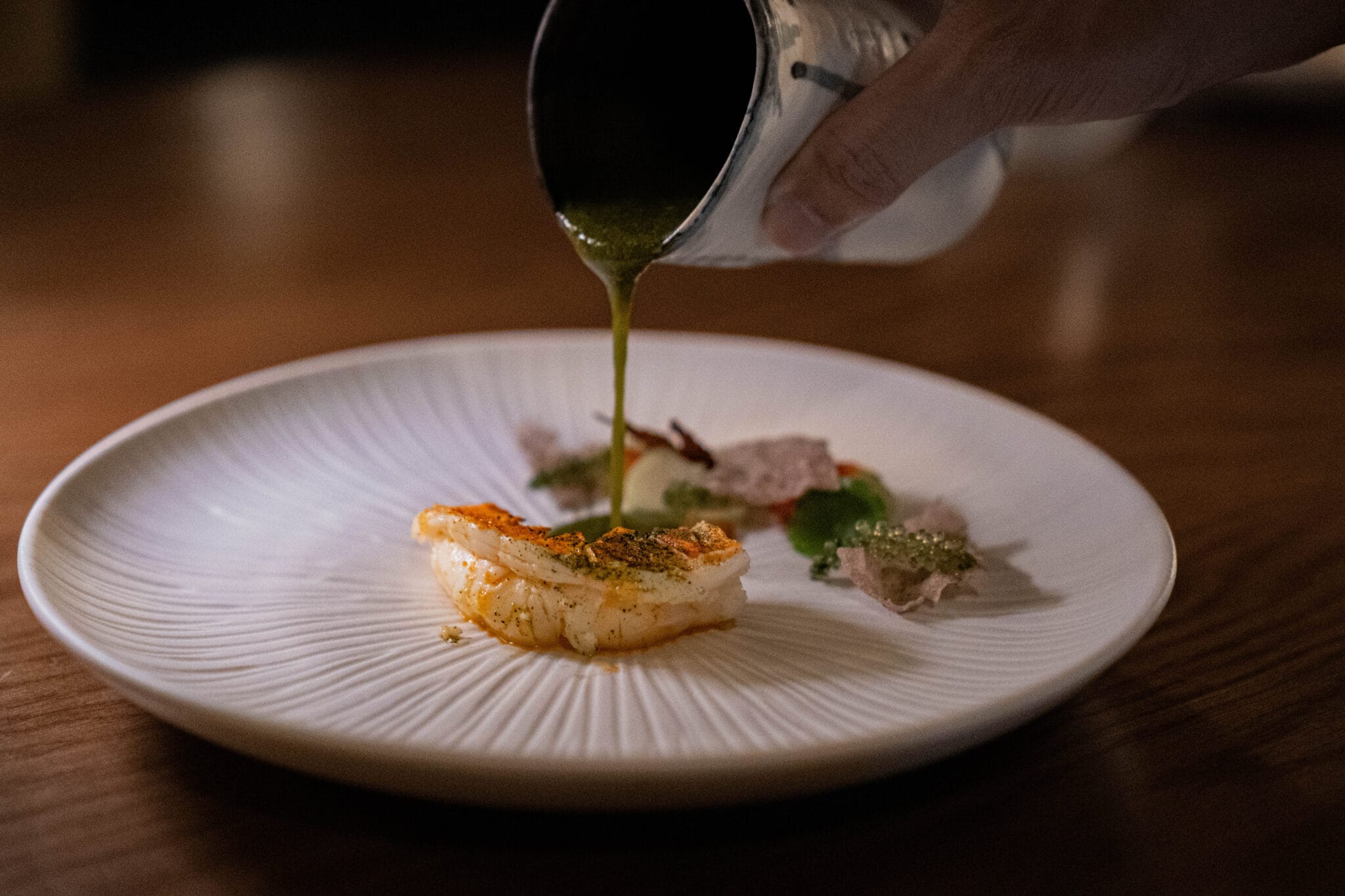 "Squid" made from black water squid from the south, wrapped in banana leaf and baked, then grilled on charcoal and smoked with maple wood. Served with black squid sauce and Tom Klong-style squid, topped with dried squid eggs and orange fizz, accompanied by tamarind salad and fried squid eggs.
Before the main dish, there is a "Dala Sorbet" course, with a sour and spicy flavor that is perfect for cleansing the palate.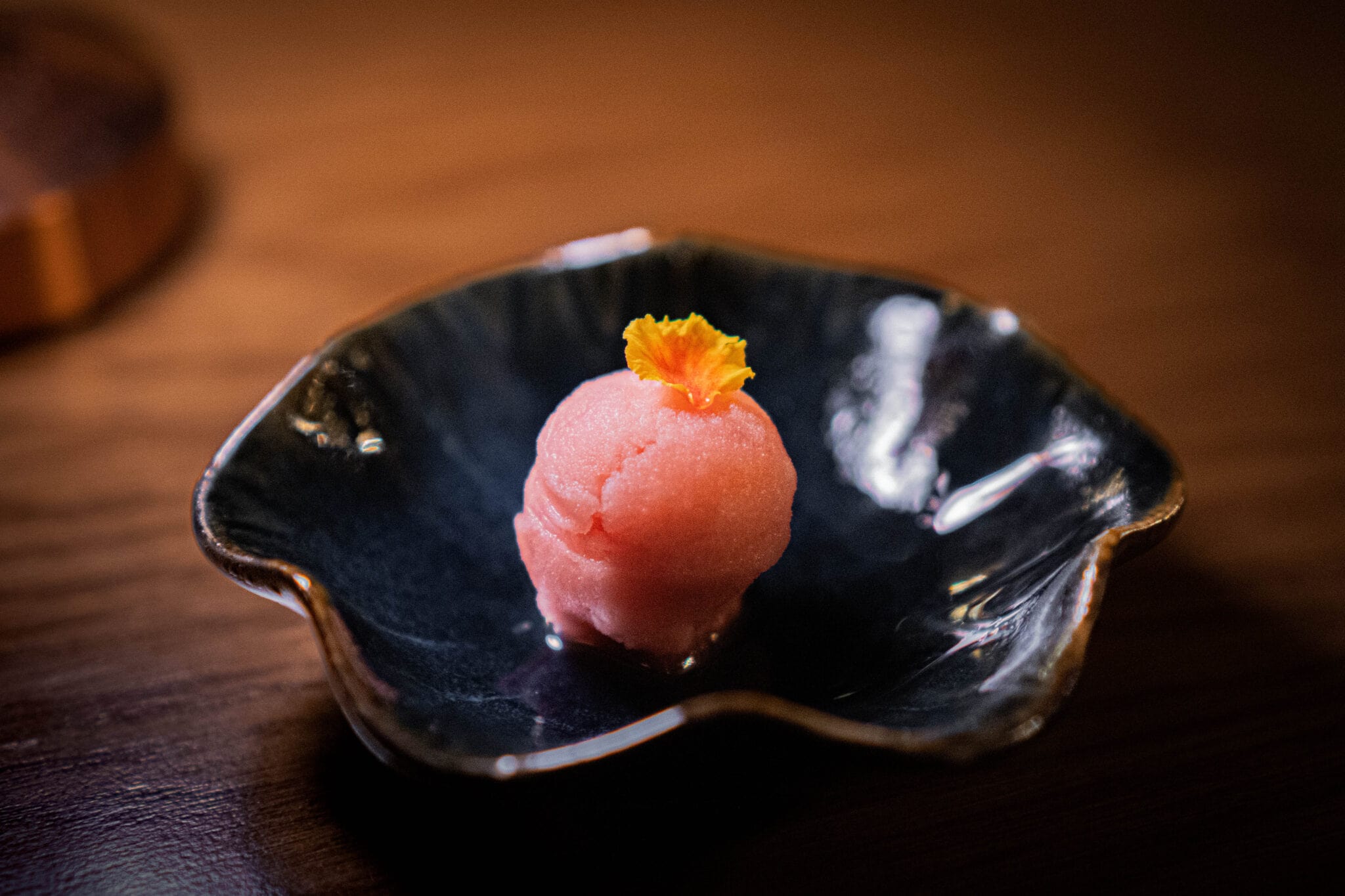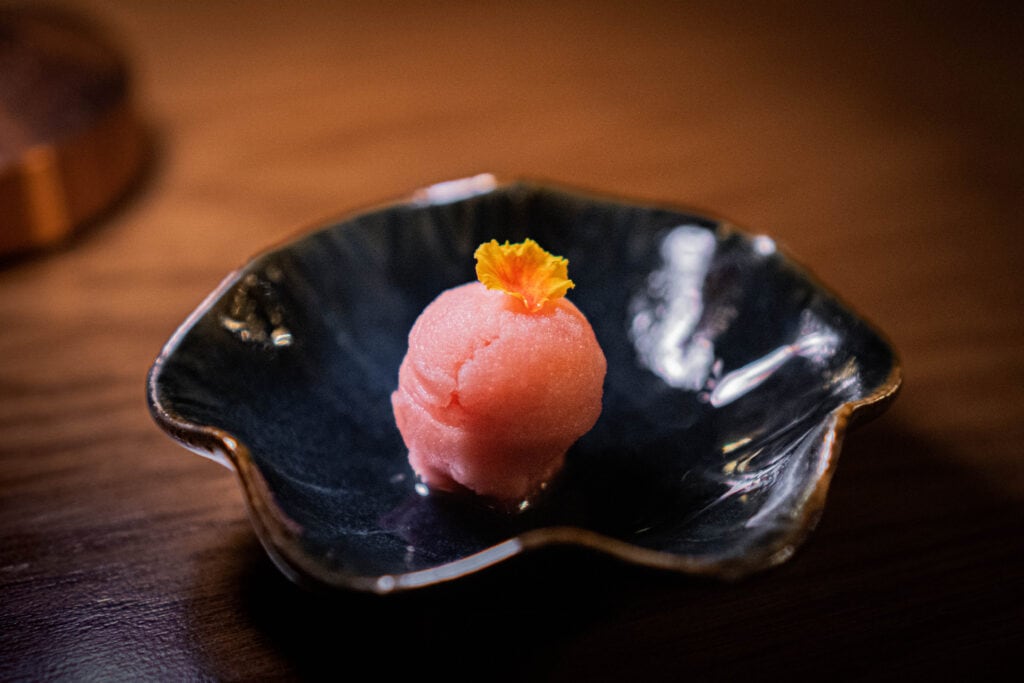 Come to the Main course
The main dish is "Sam Rab," served with four dishes paired with specially cooked rice. The first dish is "Blue Crab," seared with white turmeric and served with crab shell oil, crab roe, and Kua Kling sauce, with additions of Sator and Emulsion Sator. This dish has a slightly spicy flavor.
"Ching Chang fish " is made with a chili paste mousse, substituting mango for lemon, and served with Ching Chang fish and various vegetables. It is very spicy and accompanied by banana pickles and roasted coconut mousse, with a slight fragrance from coriander oil.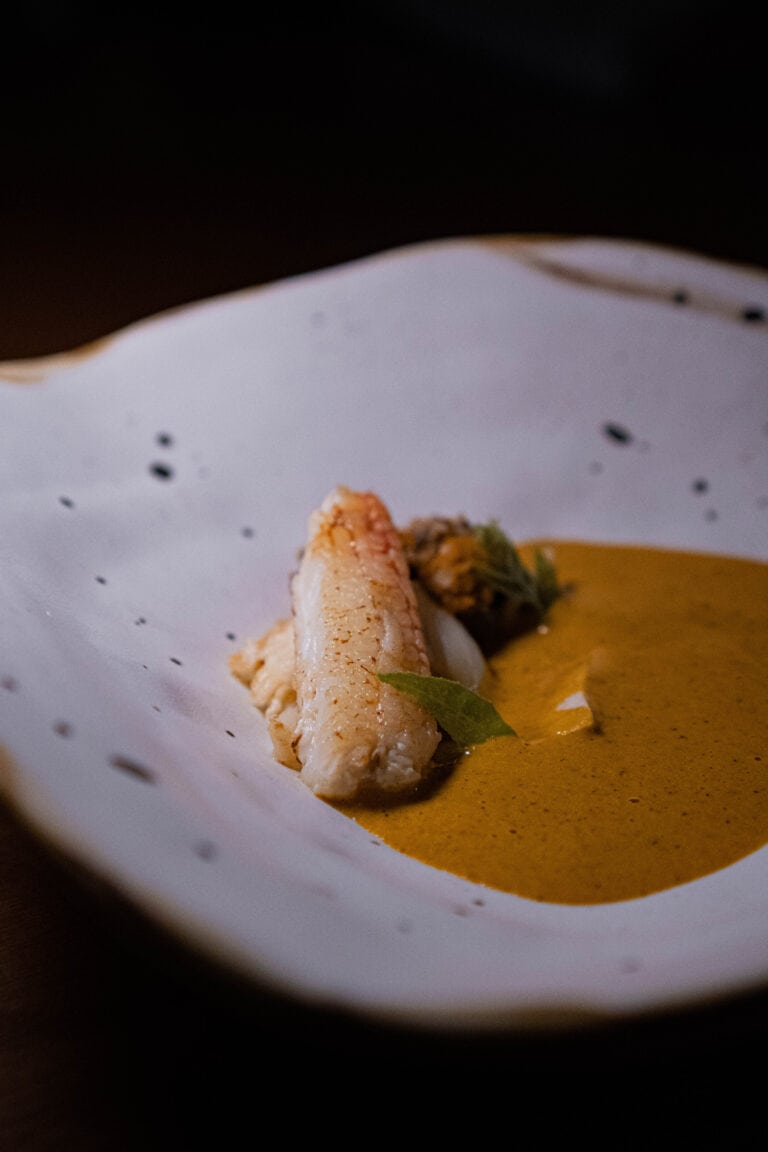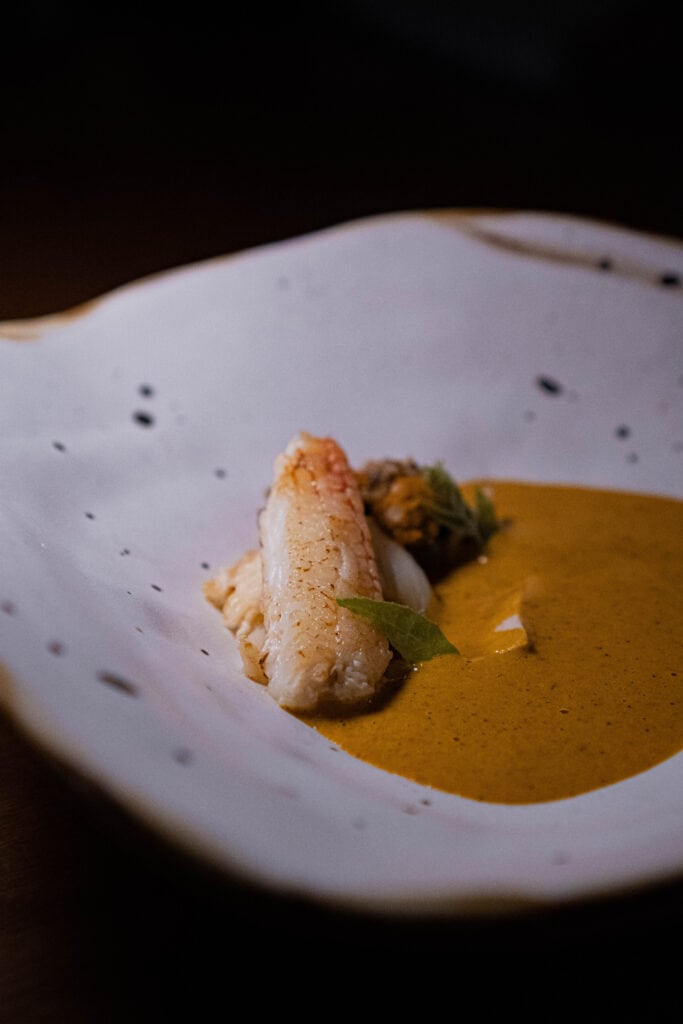 The third dish is "Soup with soybean paste," made from grouper that has been dry-aged and marinated in shio-koji, grilled and served with fluffy grouper meat, chamuang puree leaves, and a rich fish stock soup.
After the main dish, there is "Mango Light Sorbet," a palate-cleansing dish made by blending the meat and rind of mango with smoked salt for a slightly salty flavor.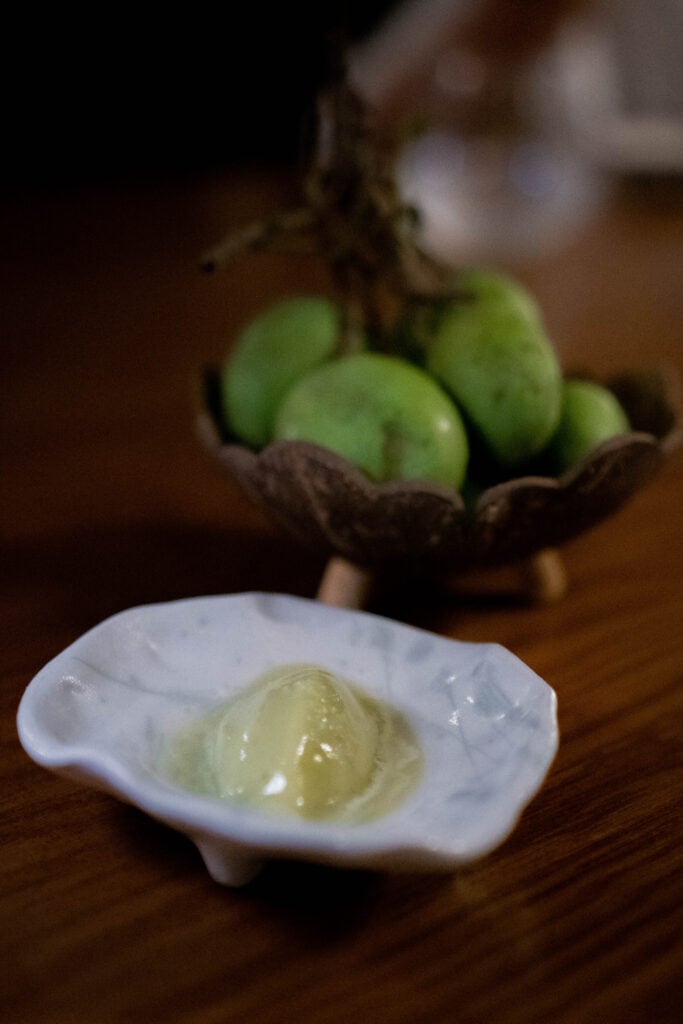 Dessert course
The dessert course includes seaweed from Koh Yo, Songkhla, made into jelly and served with crispy seaweed, burnt coconut ice cream, egg yolk sauce, and petit fours such as honey jelly, boiled corn, and puree. Puffed rice floats in jasmine water and a red bean sponge cake is also served.
As food and art are closely related, at the end of this meal, we must acknowledge that there is more to Thai sea cuisine than we previously thought. All ingredients are sourced from the Thai sea, but with the skill of Chef Bank and the Samut restaurant team, they are transformed into a feast for the eyes and the taste buds. This restaurant is a source of pride for Phuket and can be recommended to anyone visiting the area.
Summary
Price : 2,890++/person
Location : Samut (สมุทร) ในหาน ราไวย์ ภูเก็ต
Time : 17:00 – 23:00
For reservation : Samut (สมุทร)
Call : 061 162 5269